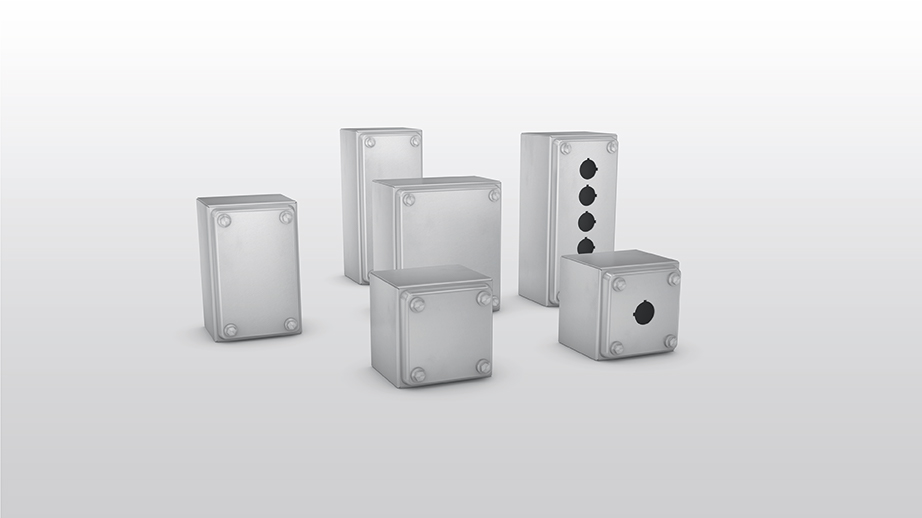 PUSHBUTTONS "PE" AND JUNCTION BOXES "DE"
• EN 1.4301 (TYPE 304L) s/s execution, thickness 12/10, fine satin-finish. On request, they can be made from other types of s/s and customized to meet specific requirements.
• Cutting-edge welding procedures enable to maintain unaltered the chemical formulation of the material thus avoiding corrosion in the weld areas.
• The cover is secured by screws provided with sealing and leak-proof washers.
• Gasket made of closed-cell foamed silicone rubber, oil-proof and self-extinguishing.
• Protection degree IP66 when appropriate components are properly installed, as per CEI EN 60529 rules.
• Pre-arrangement for earthing in compliance with the applicable rules.
• All boxes feature stud bolts to secure the DIN bar, if any.
• The PE series features drilled cover to accommodate the Ø 22,5 standardized push-button panel.
• Innner plate in sendzimir execution, available on demand from models PE2, DE02, PEC03 and PEC04.
PUSHBUTTONS "PE" AND JUNCTION BOXES "DE"
MATERIAL
SKETCHES
 NEW
ART.
l
h
p
PE01/304A
90
90
85
TYPE 304L
DOWNLOAD
PE02/304A
90
140
85
TYPE 304L
DOWNLOAD
PEC03/304A
90
140
85
TYPE 304L
PEC04/304A
90
140
85
TYPE 304L
PE03/304A
90
200
85
TYPE 304L
DOWNLOAD
PEC05/304A
90
200
85
TYPE 304L
PEC06V/304A
90
200
85
TYPE 304L
PE04/304A
130
150
85
TYPE 304L
DOWNLOAD
PEC06O/304A
130
150
85
TYPE 304L
PE06/304A
190
150
100
TYPE 304L
DOWNLOAD
PE09/304A
210
190
100
TYPE 304L
DOWNLOAD
A wide range of accessories makes your cabinets fully customizable.
See for the wide range of solutions and proposals in the specific section
Catalogue of Push-Button Boards And Junction Boxes   

DOWNLOAD