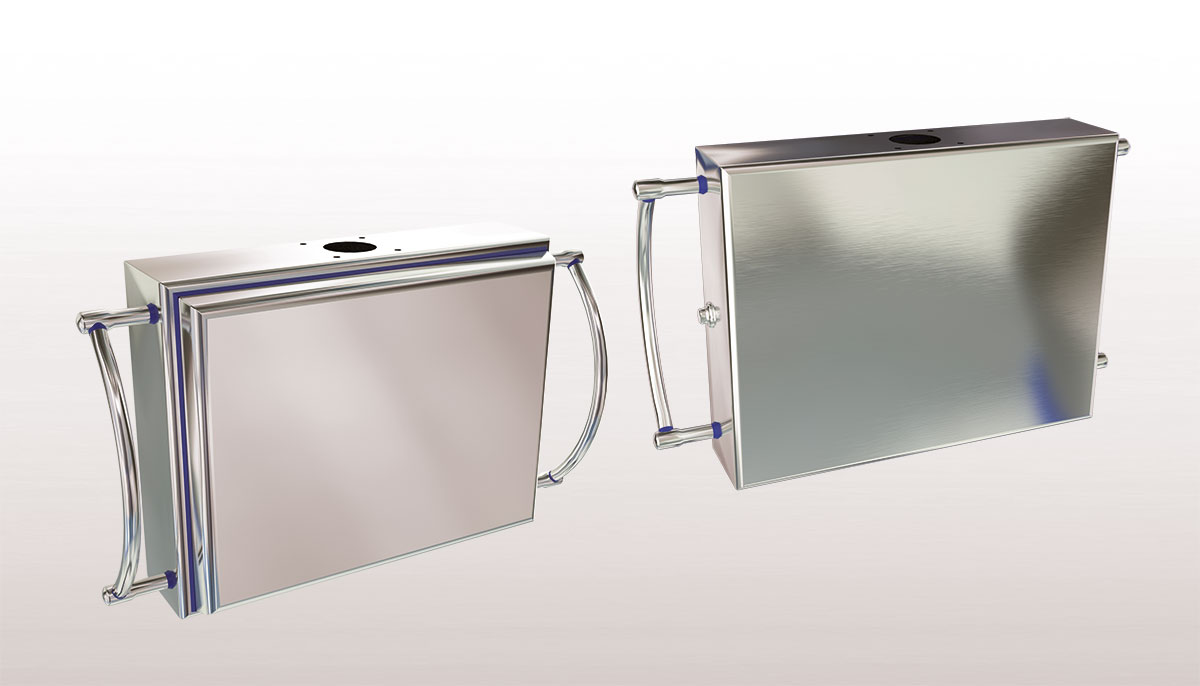 CONTROL BOX HYGIENIC SERIES BKHP
– EN 1.4301 (TYPE 304) s/s execution, finely satin-finished and protected.
– Enclosure obtained from a single sheet, thickness 15/10 shaped.
– Enclosures drilled for the assembling of articulated arms type TJ-TS-TL with rotary joint code GKS.
– Full door, hinged, side lock to take maximum advantage of the drilling space.
– Inner plate not provided.
– Ergonomic grip handles, TYPE 304 s/s
– Inner hinges, s/s: 100° opening as per CEI EN 60204-1 recommendations
– Seal removable, cleanable and s terilizable, made of moulded silicone.
– Prearranged for earthing according to the regulations in force.
– Protection degree IP66
– Doorlock without recesses and/or gaps; outside surfaces made of EN 1.4404 (TYPE 316L) s/s, shaped as per sanitary regulations DIN EN 1672-2 and DIN EN 14 159; opening by removable key, zama execution.
Outside dimensions
Material
ART.
L
H
P
TYPE 304
BKHP32
380
280
145
TYPE 304
BKHP43
450
350
145
TYPE 304
BKHP54
550
450
145
TYPE 304
BKHP65
600
500
160
TYPE 304
BKHP75
700
550
160
TYPE 304